Biography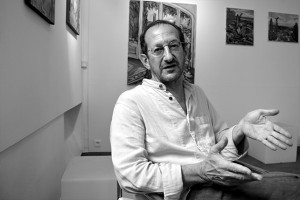 Hessing's work resonates with his life experiences from Brooklyn to the Cote d'Azur. His paintings vibrate with color and life, reflecting his unending search for the extraordinary in the ordinary.
Hessing's work is like a diary. He is a witness to his own life. Painting on rooftops or bridges as well as trips to the wilderness, the Yunan Province in China, and the Grand Canyon have turned his "plein-air painting" into an adventure. His extensive travels for exhibitions have provided exotic subjects for landscapes, interiors, cityscapes, and accumulated objects.
In 1980 the Countess Karolyi invited him for a three-month residency at her foundation for artists and writers in Vence. Here he found a home conducive to work and a nourishing cultural environment. Ten years ago he moved to a larger atelier near the port of Nice.
He exhibits worldwide and is permanently represented in Boston and Shanghai.
————————————————————————————————————
L'oeuvre de Hessing traduit ses annees passes autour du monde. Ses toiles vibrantes de couleurs respirent la vie, et reflètent sa quête de perception de l'extraordinaire dans l'ordinaire.
L'oeuvre de Hessing se lit comme un journal intime, veritable témoignage de sa propre vie. Ses peintures sur les toits ou les ponts ainsi que ses excursions dans le désert, la province du Yunnan en Chine, et le Grand Canyon transforme sa «peinture de plein-air » en aventure. Ses nombreux voyages pour ses expositions lui fournissent un cadre exotique pour ses paysages, intérieurs, paysages urbains, et objets accumulés.
Invite en 1980 par la comtesse Karolyi, pour une résidence de trois mois à sa fondation pour artistes et écrivains à Vence, il y trouve un foyer propice au travail et un environnement culturel enrichissant. Il déménage ensuite dans un plus grand atelier près du port de Nice.
Il expose dans le monde entier et est représenté de façon permanente à Boston et Shanghai.
---
2013 La Consiergerie, Nice France
2012, 2010, 2008 ,2006,2004, 2002,1999,1997,1994,1992,1989 Pucker Gallery, Boston, Massachusetts
2007,2006,2005 Shanghai Art Fair, Shanghai, China
2010 Narana Aer Gallery, Shanghai, China
2008 Galerie L'eveche, Vence France "Chine, carnets de voyage"
2007 Foster Overseas Original Art Museum, Shanghai, China
2007 Chinart Gallery, Shanghai, China
2007 Foster Overseas Original Art Museum, Shanghai
2006 Jibo Salon, Shanghai, China
2006 Maison Gallery, Shanghai, China
2005 Natus Gallery, Shanghai, China
2004 Galerie Aktuarius, Strasbourg, France
2002 Association des Jeunes Monagasques, Monaco
1969-1972 B.A., State University of New York at Binghamton
1972-1973 Private Study with Leonard Baskin
2012 Seokjang-ri Art Museum, South Korea
2009 Montreux Art Fair, Switzerland
2008 J Life Building, Jinmao Tower, Shanghai, China
2007 Beijing Art Fair, Beijing, China
2004-2005 Gallerie Limes, Komarno, Slovakia
2004 Kato Gallery, London, England
2004 DML Fine Arts, Monte Carlo, Monaco
2000 Ora Sorenson Gallery, Delray Beach, Florida
1999 Chateau d'Eze, France
1999 Chateau de Tourrettes-sur-loup, France
1998 Galerie Mouvance, Place des Vosges, Paris, France
1997-1998 Evelyn Avery Fine Arts, Atlanta, Geogia
1996-1997 Fel Gallery, Singapore
Awards
April 2008 Guest Speaker at the Studio Art Department California State University, Dominguez Hill, CA
October 2008 Guest Speaker at National art Museum of China, Beijing,
2007 Red Gate Gallery Residency Program, Beijing, China
2004 Sympat, International Artist Symposium, Patince, Slovakia
1999 Master Works Foundation, Paget, Bermuda
1980 Artist in residence, Karolyi Foundation, Vence France
1978 Artist in Residence, Millet Colony for the Arts, Austerlitz, NY
Selected Collections
Rose Art Museum, Brandeis University, Waltham, Massachusetts
Aidekman Arts Center, Tufts University, Medford, Massachusetts
University College of Cape Breton, Nova Scotia, Canada
Boston Public Library, Boston, Massachusetts
Center Culture Henri Matisse, Vence, France
Princess Margaret Hospital, Toronto, Canada